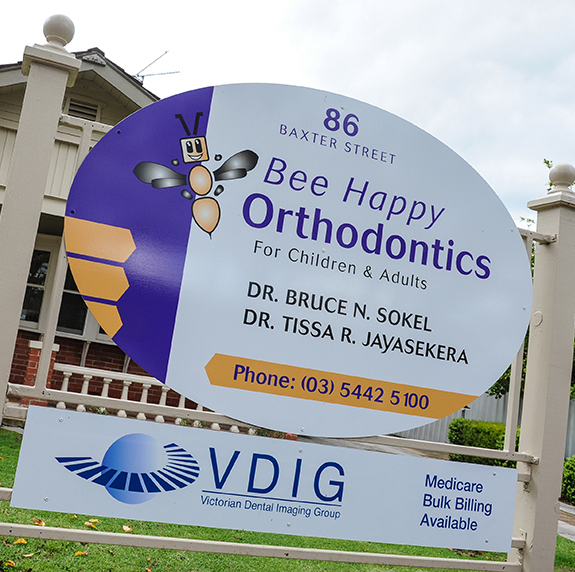 Central Victoria's local Specialist Orthodontics practice, Bee Happy Orthodontics, has reached another milestone in its 30-year history with notification of accreditation from the Dental Industry of Australia's (ADA) accreditation body QIP.
Bee Happy is the only accredited orthodontic practice in Bendigo, Victoria and surrounding regions with registered Specialist Orthodontists.
The accreditation program is based on meeting the six National Safety and Quality Health Service (NSQHS) Standards applicable to dentistry and related professions including orthodontics. The NSQHS Standards have been developed by the Australian Commission on Safety and Quality in Health Care (ACSQHS). The primary aim of the NSQHS Standards is to protect the public from harm and to improve the quality of health service provision in Australia.
Bee Happy Orthodontic's accreditation is an independent recognition that, as an organisation, they have met the requirements of defined standards that provides peace of mind to patients and their families as well as the community at large.
Founding Partner Dr. Bruce Sokel said, "Many Dentists are now offering some basic forms of orthodontic treatment through various organisations, with many taking a short, two-weekend course in one type of treatment. Specialist Orthodontists have a university degree to initially become a qualified Dentist with a further three years of full-time studies at an accredited University with supervised training. They are fully qualified to offer a range of treatment to suit the patient, rather than the one proprietary treatment promoted by a particular company."
Dr. Tissa Jayasekera, Orthodontist and Partner of the practice added, "We are proud to be a part of the local community and offer a specialist service in regional areas that allows families and individuals to get the best possible treatment without having to go to Melbourne."
Bee Happy services patients from a wide geographic area in Central Victoria with offices in Bendigo, Kyneton, Echuca and Kerang. Both Orthodontists are members of the Australian Society of Orthodontists and are the only registered Orthodontic Specialists in Central Victoria.  They are both involved in local youth sport and support other non-profit endeavours in the region.